Saturday May 26th 2012 Screening 21:30
So Faraway and Blue by Roy Cross: 35mm B&W Film Screening & Talk
So Faraway and Blue is a film about abandonment, regret, and the emptiness felt when looking for people who don't want to be found. Julie, a Montréal teenager who lives alone in a vacant swimming pool spends her days following strangers. Abandoned by her father, she searches for the meaning of courage, love and desire in her observation of others. A longing for her father leads her to Hank, a lost guy from out of town, who is seeking Veronique, an ex lover he ditched one night in Mexico. Intrigued by Hank's obsession and the possibility of finding her father; Julie helps Hank in his quest.
Free Admission to Film Screening and Talk
A few notes about the sound track So Faraway and Blue was shot on super 16mm, black and white film. All location audio was recorded with a Nagra IV monophonic full track recorder utilizing one dynamic and one condenser microphone. Budget limitations precluded anything more sophisticated. The sound track for **So Faraway and Blue ** was almost entirely reconstructed in post-production. There were large sections of the film without dialogue and this was an opportunity to amplify the sense of abandonment through sound design. Using natural sounds in unusual contexts, the soundtrack created a space that places it beyond 'natural'. For example, there were sounds of ocean-side surf breaking on a beach during a scene in a car. Swirling wind and sounds of distant trains can be heard in a scene that takes place underwater. There were numerous moments in the film in which characters are alone and at those times the sound track represented a sense of the character's alienation from her/his surroundings. The music is sparse and rarely melodic, rather it acts as another layer of sound design. The music composer worked with live sounds sampled and then layered them into the sound design, particularly playing off the ambiance tracks. Jackie Gallant, the film's composer continues to produce experimental music projects both as a solo artist and in collaboration with dancers and other musicians.
The sound on the 35mm print is stereophonic.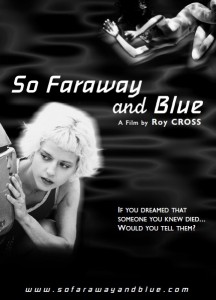 Director Roy Cross, Better Kissing Film Production, Montréal, Quebec, Canada
Roy Cross grew up in Yorkton, Saskatchewan, home of North America's longest running Short Film Festival. He found himself making Super 8 films in high-school where an interest in punk rock, fast cars and the pursuit of the plastic arts snuffed out a promising career as a grocery clerk.
Since receiving a Fine Arts degree from the University of Regina in 1990, he has written, produced and directed short films over the past 22 years. His films have played Toronto, Vancouver, Montreal, Ann Arbor, New York, Paris, Oberhausen, the UK, and other festivals around the world. In 1994, after a three-year stay in Banff, Alberta, he moved to Montreal where he completed a Master's Degree in Fine Art at Concordia University. In 2002, Roy accepted a full-time faculty position at the Mel Hoppenheim School of Cinema at Concordia University in Montreal where he teaches script writing and filmmaking courses. He is currently Head of the Film Production Programme at the School.
Roy's first feature – So Faraway and Blue – was commercially released in Canada in 2003 to critical praise. He was the sole producer on Faraway where he financed the development and a significant portion of the production phase. Roy recently received development funding to write his second feature – Falling to Earth which continues a fascination of solitary characters in motion through urban and rural landscapes searching for missing pieces of themselves.
Additionally, he has returned to shooting black and white film stocks and continues to work in the fiction genre utilizing small casts and crews. In March of 2010, he completed production on One Morning in June, his very first High Definition project. He has also just completed a 35mm silent film called Dream of the Woman in Blue. Currently Roy is working in Berlin on his future serial black & white film project "Are you just going to stand there?" at Creative Office.